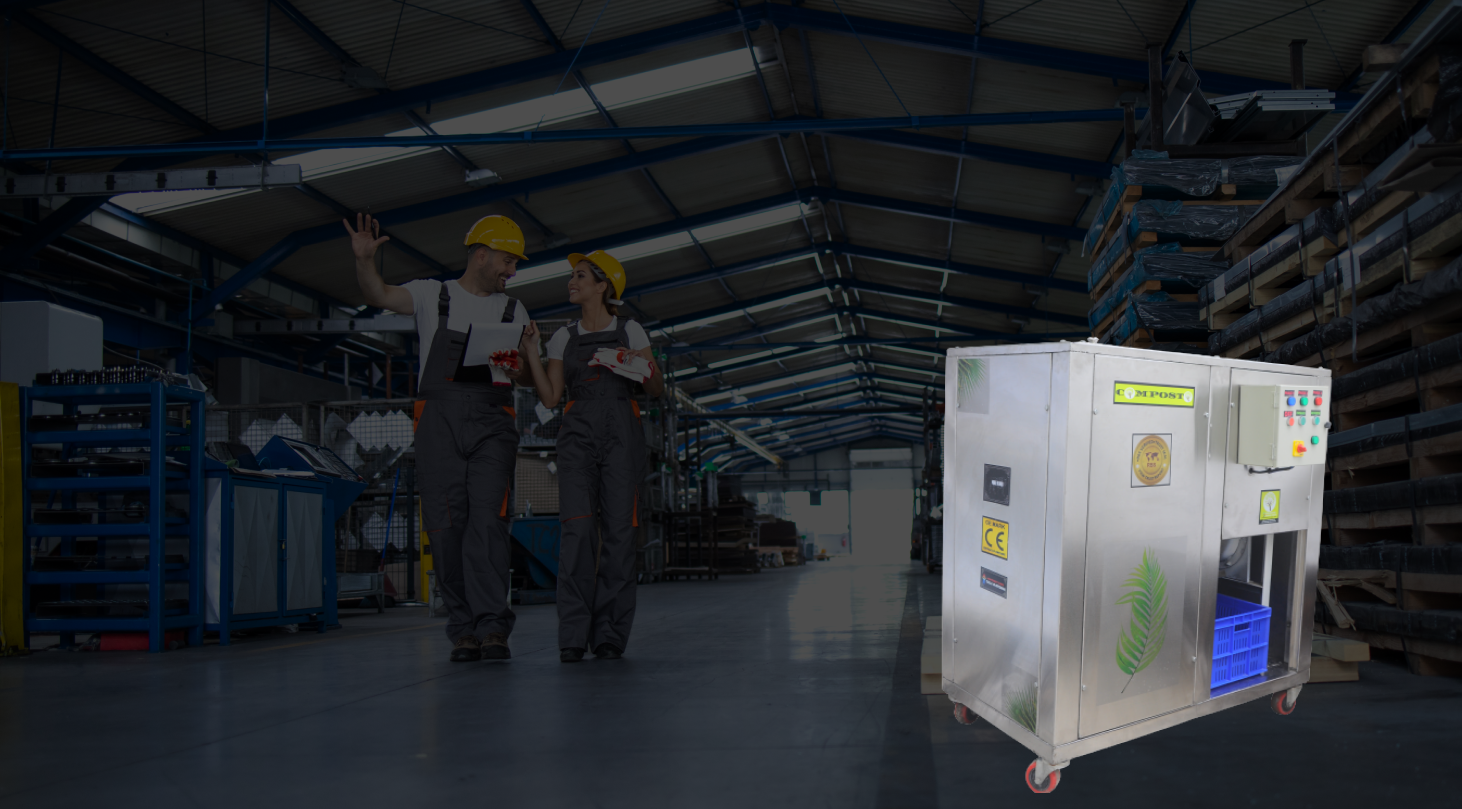 June 1, 2020
Organic Waste Composting Machine Manufacturer
Introducing the Future of Sustainable Waste Management: Organic Waste Composting Machine
In a world increasingly concerned about environmental sustainability, waste management has taken center stage. One of the most pressing challenges we face is the responsible disposal of organic waste. The answer to this dilemma lies in our revolutionary solution – the Organic Waste Composting Machine.
The Organic Waste Challenge
Organic waste, comprising kitchen scraps, garden debris, and biodegradable materials, poses a significant problem for the environment when left unattended. In landfills, it decomposes anaerobically, releasing harmful methane gas into the atmosphere. This potent greenhouse gas significantly contributes to global warming, exacerbating climate change.
The Solution: Organic Waste Composting Machine
Our Organic Waste Composting Machine is a game-changer in sustainable waste management. It transforms organic waste into a valuable resource, mitigating environmental harm and providing numerous benefits:
1. Waste Diversion: By diverting organic waste from landfills, our composting machine significantly reduces methane emissions and lightens the load on waste disposal systems.
2. Environmental Benefits: Composting is an eco-friendly process that reduces greenhouse gas emissions, conserves landfill space, and minimizes the need for chemical fertilizers in agriculture.
3. Valuable End Product: The result of our composting machine is nutrient-rich, high-quality compost. This soil conditioner improves soil structure, enhances moisture retention, and delivers essential nutrients to plants, resulting in healthier and more productive gardens, farms, and landscapes.
4. Cost Savings: Beyond the environmental benefits, composting can lead to long-term cost savings by reducing waste disposal expenses and diminishing the need for synthetic fertilizers.
Key Features of Our Composting Machine
Efficiency: Our composting machine accelerates the decomposition process, delivering results quickly and effectively.

Ease of Use: User-friendly and designed for convenience, our machine is suitable for businesses, institutions, households, and community organizations.

Space Optimization: Available in various sizes to accommodate different space requirements, making it ideal for both urban and rural settings.

Low Maintenance: Minimal maintenance and operational requirements, ensuring hassle-free composting.

Customization: Tailored solutions for diverse needs, from in-vessel systems for high-volume composting to worm composters for small-scale applications.
Join the Green Revolution
Embrace a more sustainable future by adopting our Organic Waste Composting Machine. Whether you're a homeowner, a business owner, or a community leader, our machine provides an effective and eco-friendly approach to managing organic waste. By making the conscious choice to compost, you are actively contributing to a greener planet and a healthier tomorrow.
Make the responsible choice today – choose our Organic Waste Composting Machine and be a part of the solution to the world's waste management challenges.
Looking for Best Compost Machine Manufacturers?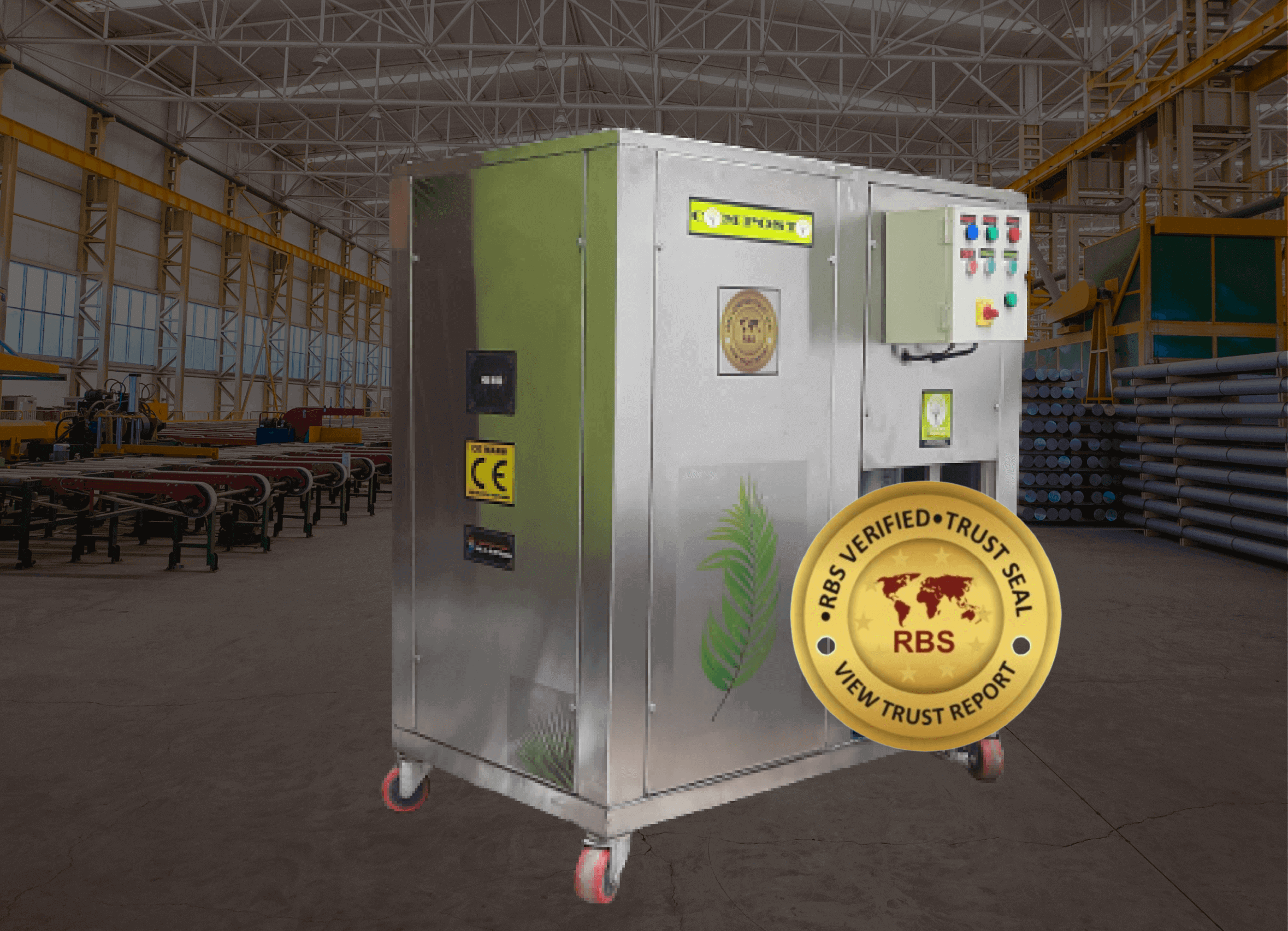 Organic Waste Converter Processing Video
ORGANIC WASTE COMPOSTING MACHINE MANUFACTURER
If you're seeking an organic waste composting machine manufacturer in Delhi/NCR/Bangalore, we offer customized solutions for bulk waste generators who wish to convert their food waste into manure. According to the solid waste management 2016 rules, composting is a mandatory practice in municipal limits for restaurant or hotel owners, school/college proprietors, and residential societies with daily food waste generation.
Our organic waste composting machines include fully automatic and semi-automatic variants, equipped with features that make the entire composting process seamless at any bulk waste generator's location. Our inbuilt shredder boasts high-quality SS blades (6MM) for the best shredding experience of any hard waste, such as tree pruning or boy material. The whole machine is PLC controlled for smooth functioning with reverse or forward options in both the shredder and mixing bin.
Despite these features and international standard components, our organic waste composting machine prices are highly efficient. As one of India's leading organic waste composting machine manufacturers, we maintain the product quality's zenith in consultation with our consortium members from countries like Germany, Israel, UK, and USA. Our organic waste composting machine process is pure and on par with most western countries' processes in modern times.
Our "COMPOSTO 10" model is one of our most successful and popular organic waste composting machine models, suitable for bulk generators producing between 25 kg to 100 kg per day. The "COMPOSTO 10" model is cost-effective in both initial pricing and operating expenses, making it a popular choice among small hotel or restaurant owners as it requires very little space.
Traditionally, composting was a tedious and challenging process, but with our organic waste composting machine, the entire process has become more manageable and faster. To have a look at the processing of the machine or its working, you can contact us at 9958858881 for a demo session. Additionally, our organic waste composting machine prices are highly efficient, and we maintain high-quality standards for our product. Contact our sales team at 9958858881 to understand the organic waste composting machine process or schedule a demo session.
Buy directly from ORGANIC WASTE COMPOSTING MACHINE MANUFACTURER @ 9958858881
We at DSC Engineering – the best compost machine manufacturers in Delhi / NCR assures Best price / Best after sales services / upto 5 years warranty* / Best composting practice.
Industrial Compost Machine related Q. & A.
Ans: You can call @ 9958858881 : 95000/- is starting price for Organic waste composter machine. Although fully automatic organic waste composter machine price (With inbuilt shredder) depends upon per day capacity of machine.
Ans: We are one of the leading organic waste composter machine manufacturers. We offers fully automated organic waste composter machine starting from 25 kg per day | 50 kg per day | 75 kg per day | 100 kg per day to 2000 kg per day.
DSC ENGINEERING team is doing great job with their quality compost machine. They are very reliable for all waste management related matters
They are really pioneers in manufacturing compost machine. Happy with their product and services.
Technology they are continuously regularly updating in their compost machine is their USP. Really impressed with their go for attitude.