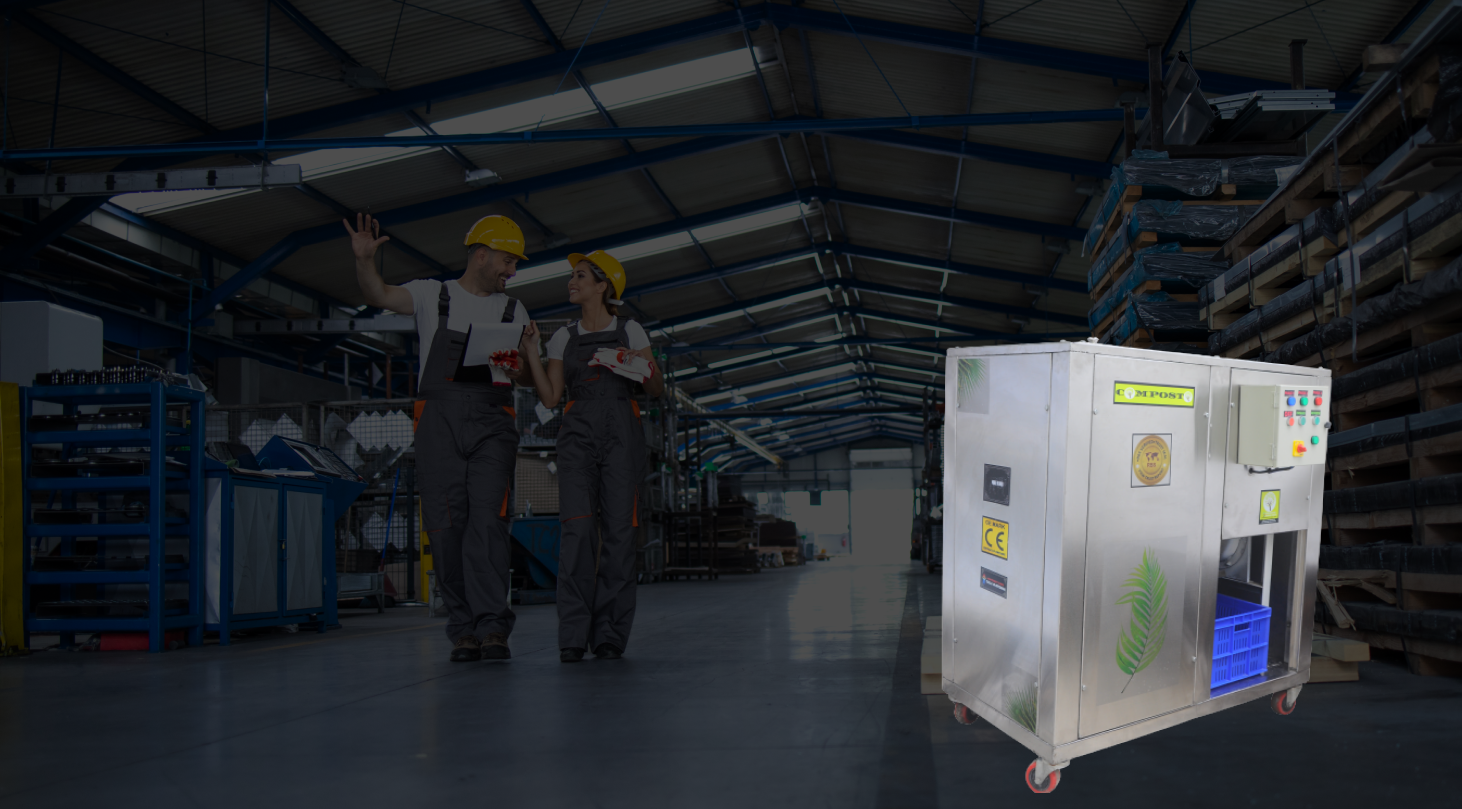 June 9, 2020
Organic Waste Converter
Unlocking Sustainability: The Power of Organic Waste Converters
In an era where environmental consciousness is on the rise, our approach to waste management has never been more critical. Enter the unsung hero in the world of sustainability: the organic waste converter. This unassuming machine is at the forefront of a green revolution, reshaping how we deal with organic waste and offering a host of benefits for the environment and our communities.
What is an Organic Waste Converter?
Organic waste converters are innovative machines designed to transform organic waste into nutrient-rich compost. They operate on the principles of aerobic decomposition, replicating the natural composting process but in a controlled environment. By providing the right conditions of moisture, aeration, and mixing, these converters accelerate the breakdown of organic waste materials.
Why Organic Waste Conversion Matters
Reduces Landfill Pressure: The mounting pressure on landfills is a global concern. Organic waste converters significantly reduce the volume of waste destined for landfills, helping to extend their lifespan and minimize the environmental impact of these sites.

Cuts Greenhouse Gas Emissions: Organic waste decomposing in landfills releases methane, a potent greenhouse gas. By converting organic waste into compost, converters mitigate methane emissions, contributing to climate change mitigation.

Produces Valuable Compost: The compost generated through this process is a valuable resource for enriching soil. It's a sustainable alternative to chemical fertilizers, enhancing plant growth and improving soil quality.

Promotes Sustainable Practices: Organic waste converters encourage sustainable waste management practices at both individual and community levels. They empower households, businesses, and institutions to take an active role in environmental responsibility.
Applications of Organic Waste Converters
Households: Composting at home becomes accessible with small-scale organic waste converters, reducing the need for waste collection and disposal.

Restaurants and Cafes: Commercial organic waste converters help food establishments manage kitchen waste efficiently.

Hotels and Resorts: These converters enable large hospitality units to process organic waste and use the resulting compost in their gardens.

Educational Institutions: Schools and colleges can teach students about sustainability by implementing organic waste converters on their campuses.

Municipalities: Whole communities can benefit from industrial-scale converters that process organic waste from various sources.
Choosing the Right Organic Waste Converter
Selecting the right organic waste converter depends on your specific needs and scale of operation. Consider factors such as the volume of waste generated, available space, and desired compost output. Manufacturers offer a range of options, from compact units for households to larger machines suitable for institutions and municipalities.
Conclusion
The organic waste converter is not just a machine; it's a symbol of a sustainable future. It demonstrates that, with innovation and conscious choices, we can mitigate the environmental impact of waste and nourish the earth simultaneously. As we embrace organic waste converters in our homes, businesses, and communities, we take a significant step towards a greener and more sustainable world. So, if you haven't explored the world of organic waste conversion yet, now is the perfect time to join the movement and make a positive impact on the environment.
Looking for Best Organic Waste Converter Manufacturers?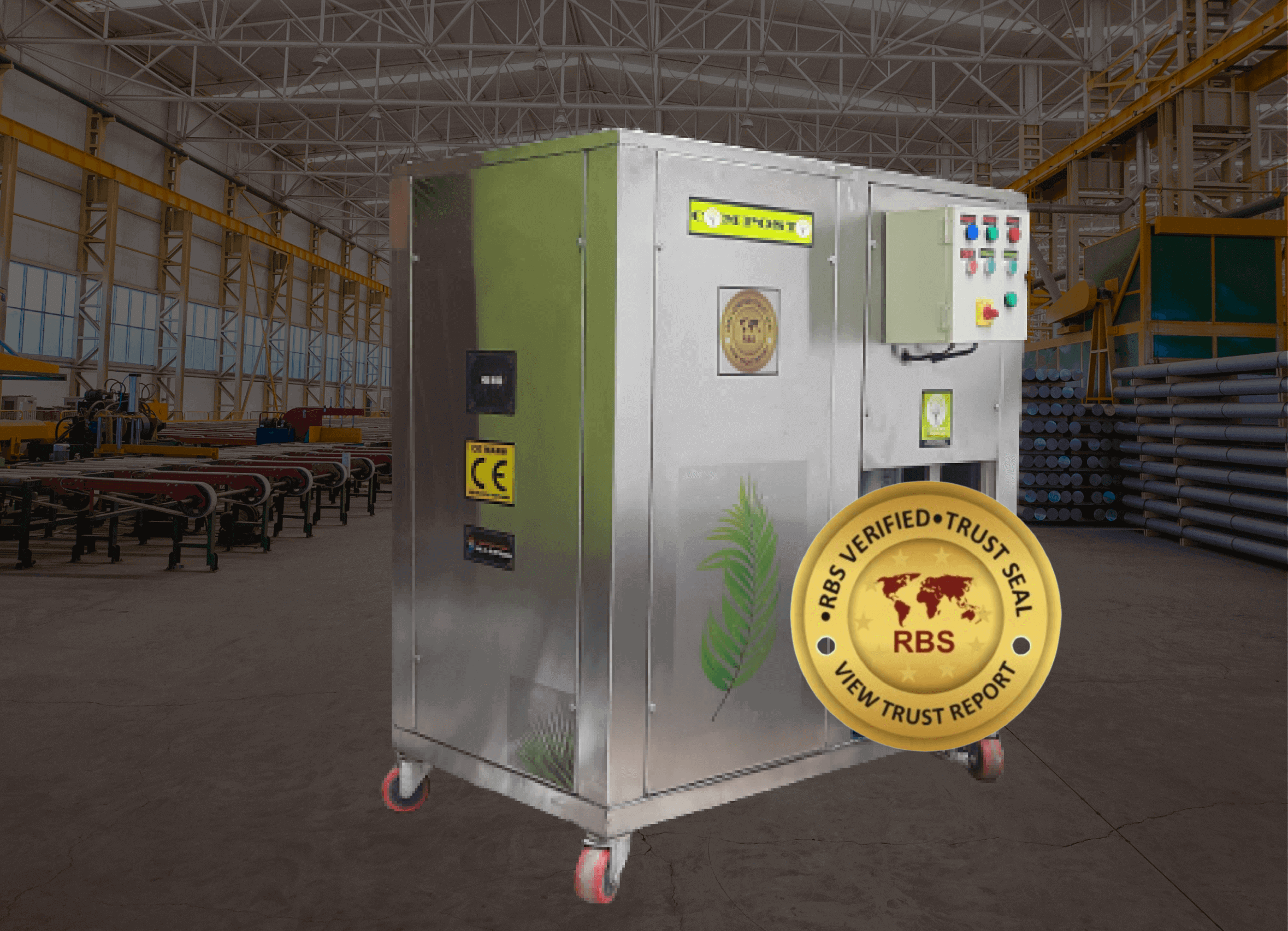 Organic Waste Converter Processing Video
ORGANIC WASTE CONVERTER DETAILS
Innovative Organic Waste Converters for Industrial Use
Our state-of-the-art manufacturing units are located in multiple cities across the country, making us one of the leading organic waste converter manufacturers in the industry. We offer fully automatic models with varying processing capacities, catering to industries such as food processing units, hotels/restaurants, and agro-based units.
All our models come with an inbuilt shredder for effortless processing of food waste at bulk generators source. The inbuilt shredder chops waste into tiny pieces, which complement the decomposition process. Our robust blades can handle all types of hard food waste, ensuring maximum efficiency.
Our smallest model, the "COMPOSTO 10," can handle 25 kg per day and comes with an inbuilt shredder and a PLC-controlled unit, making it easy to use and maintain. It is ideal for small canteens, restaurants, or educational institutions (schools/colleges).
Our organic waste converter machines are equipped with high-quality components that meet international quality standards. From shredder blades, gears, motors, mixing blades, PLC, to industrial-grade wheels, we ensure that every component is of the highest quality. We also provide consultancy and assistance in technology upgradation for our organic waste converter machines in collaboration with institutions based in countries such as Germany, Israel, UK, etc.
The PLC control in our machines makes it easy to handle all functions of the organic waste converter. Our shredder has both forward and reverse functioning for effective chopping of all types of hard or soft waste. The mixing blades can be moved on both sides to mix organic waste with enzymes more rigorously for proper expedition of the decomposition process. The handy emergency stop button makes the machine safe for the person handling the organic waste converter at the ground level.
Our automated curing system, along with the organic waste converter machine, makes the curing period efficient, saving time and human energy for the institution without compromising the quality of the end product. The fully automated curing system is equipped with motors and piping systems, enabling managed handling of raw compost during the composting process with brass foggers for the best results.
As one of the leading manufacturers in India, we assure you of the long life of our machines, built with international standard components such as stainless steel outer body, SS contact parts like shredder blades, automatic gears, branded motors, SS Power heaters, etc.
Contact our sales team at 9958858881 for any trade inquiries. Buying directly from organic waste converter manufacturers offers several advantages, including the best organic waste converter prices in India and the best after-sales services for the machine after installation.
Buy directly from Organic Waste Converter Manufacturers @ 9958858881
We at DSC Engineering – the best compost machine manufacturers in Delhi / NCR assures Best price / Best after sales services / upto 5 years warranty* / Best composting practice.
Organic Waste Converter related Q. & A.
Ans. 95000/- is starting price for Organic Waste Converter : Call 9958858881. Fully automatic organic waste converter is available with us starting from 25 kg per day to 2000 kg per day with inbuilt shredder | PLC Control.
DSC ENGINEERING team is doing great job with their quality compost machine. They are very reliable for all waste management related matters
They are really pioneers in manufacturing compost machine. Happy with their product and services.
Technology they are continuously regularly updating in their compost machine is their USP. Really impressed with their go for attitude.